After inheriting his grandparents' house, Alex planned to transform it into a home he could share with his partner, Ginger, their 2 beloved dogs, and his extensive guitar collection. Alex had fond childhood memories of the house, but it was ready for a big change for the next generation.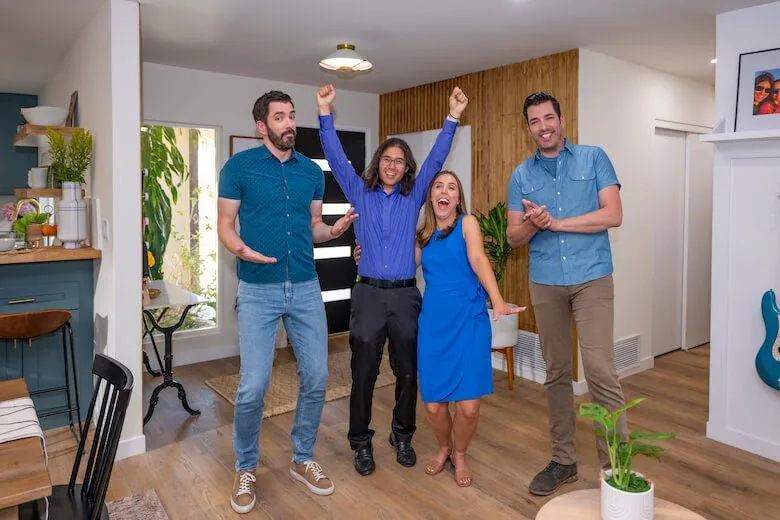 This site contains affiliate links to products. We may receive commission for purchases made through these links. Price at time of publish date may change.
We reimagined the kitchen, dining room, living room, and backyard, so Alex and Ginger can make new memories with their friends, family, and someday, their future children.
Fletcher 60″ Bathroom Vanity
FHS07E04 Ginger Alex
Click below to see all of the items featured in this episode!
Design Highlights
I Love Rock and Roll
While Alex's guitars are dear to him, they cluttered the living room and made it difficult to use the fireplace. We set up a special feature wall to display his collection and outfitted the fireplace with a stunning redwood mantel everyone can appreciate.
Green With Envy
Ginger was concerned about their large dogs being able to reach the counters, so we installed a raised bar countertop that could keep food out of reach. Then, we added gorgeous green cabinets to honor and remember Alex's grandmother and her favorite color.
Patio Paradise
Alex and Ginger had a great backyard, but the lawn was overrun with wild vegetation and was unevenly maintained. We weeded it, installed an efficient irrigation system, and set up dedicated puppy and people spaces so that everyone can enjoy being outside together.
Don't miss the Forever Home episode 3 recap!
Visit HGTV for information on upcoming Forever Home episodes.