9 Best Living Room Decorating Ideas
As seen on Forever Home, hosts Drew and Jonathan Scott revel this home to its owners for the first time.
This site contains affiliate links to products. We may receive commission for purchases made through these links. Price at time of publish date may change.
The living room is such an important hub of the home. It's where you relax, host friends and family, catch up on your favorite books or shows, and pretty much anything else you do from the comfort of your couch. That makes finding living room decorating ideas even more difficult…so much pressure!
Let's make it a little easier on you by sharing some of our favorite ways to decorate the living room. Drew and Jonathan have overhauled tons of spaces for families over the years, ensuring every last one gets the fun and function they need. Which means, there's pretty much something for everyone on this list, whether you like color, neutrals, traditional, modern, ultra-cozy, or anything in between. Once you have your design style figured out, don't forget to start shopping for things like throw pillows or essentials like coffee tables. These are the final finishing touches you need!
01
Patterned and Colorful
Sometimes more is more! If you're working on your own maximalist space, then take a good look at this living room that's chock-full of pattern and color. You'll notice it feels busy without being too overwhelming due to the consistency in colors and patterns. The corals, blues, and yellows repeat as well as the diamond designs, making it appear thoughtful instead of scattered.
02
Cozy, Comfy
If your family loves a good TV or movie night, then you should double down on a big, comfy couch. That also means you're likely going for a cozy vibe overall, which this living room pulls off in spades. Copy the look with tons of pillows, blankets, and even soft pieces like ottomans. Warning: You may never want to leave!
03
Balanced and Beautiful
This is a sort of Goldilocks moment: It's not overly maximalist, but it's not minimalist, either. The rug brings in pattern, while a colored sofa also keeps things interesting. But classic wood tables, simple throw pillows, white curtains, and black-framed photos ensure it doesn't go too overboard.
04
Open Floor Flow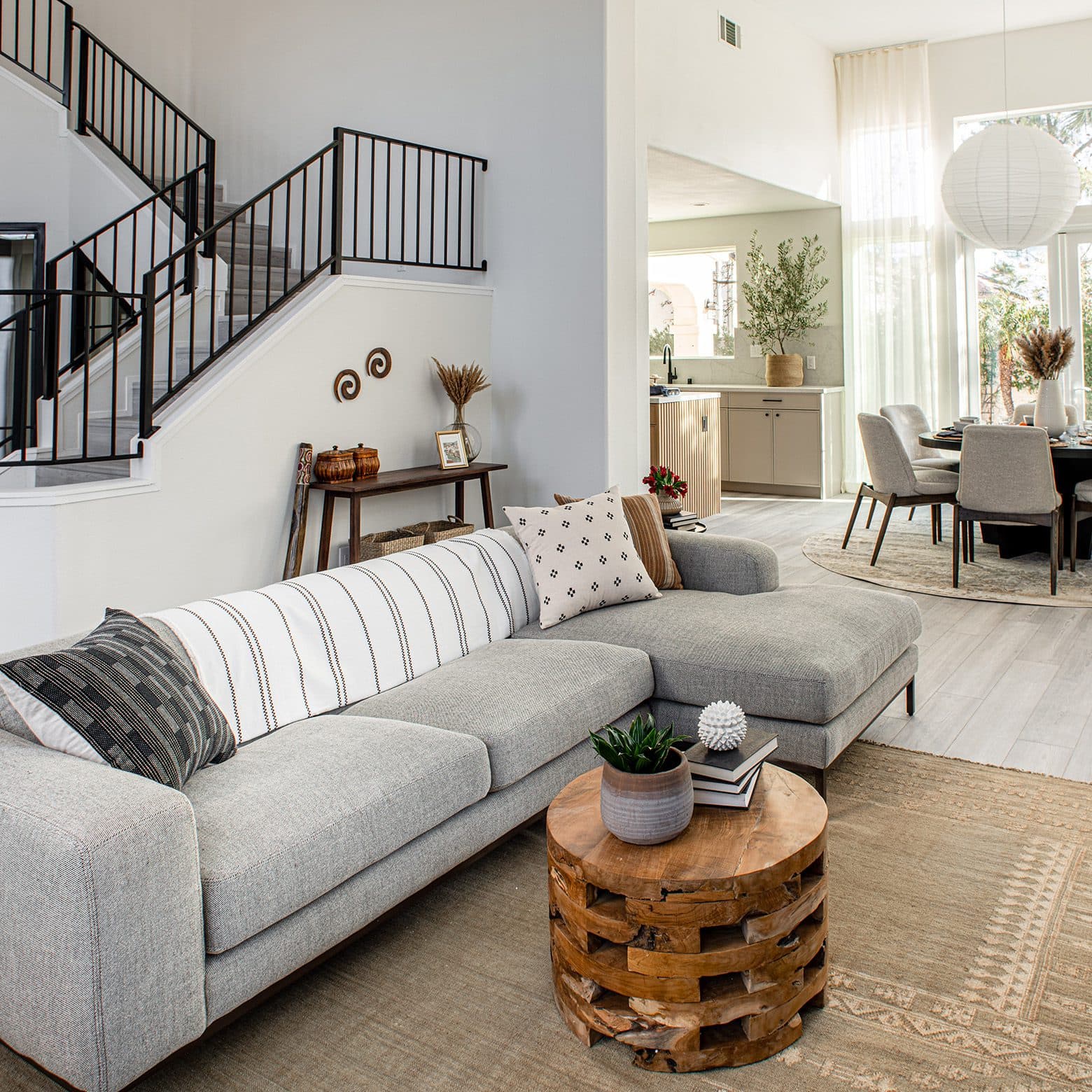 Tons of homes have open floor plans, which can make decorating difficult. While the adjoined spaces don't have to match perfectly, you can create a feeling of consistency by choosing certain items within the same color scheme or fabric. Here, for example, the sofa and dining chairs are both a gray fabric and the rugs are neutral. It helps everything flow together nicely.
05
Sweet Seats
Who says a small living room can't capitalize on furniture? If you're big on entertaining, consider choosing a smaller couch and coffee table to make room for a variety of cozy accent chairs. It'll help you up your seating options without making it feel crowded.
06
Classic and Elegant
Fans of traditional decor with a twist can find tons of inspiration in this living room. The built-ins offer great storage opportunities and a chance to show off books and other items. We love that a piece of soothing artwork takes center stage, too, versus the usual TV. The whole thing comes together by mixing furniture, curtains, and an area rug with complimentary neutral colors.
07
Sunshiny Day
This living room is a perfect example of mixing in color with neutrals. The foundation of the space is black, grays, and some navy blue. But Drew and Jonathan wove in pops of yellow with the pillows, blankets, and even table accessories for added interest. The best part about this method is if you get sick of the yellow, you can swap it for a different shade without hardly any fuss.
08
Midcentury Modern
A statement wall can be a really fun addition to a modern living room. This goes half-and-half with wood paneling and a stone finish. The olive tones in the pillows and couch as well as the black metal accents make it ultra-chic.
09
Book Nook
Another idea for sneaky seating and storage? A living room nook! Of course, this is super functional because you can put linens, extra pillows, or other items out of sight under the seat. But you can also use it as an opportunity for a design moment if you hang a large art print above it, too.